On March 23rd (MON) at 7:30 P.M, 12th Miral Concert held at Sejong concert hall in Sejong Center for the Performing Arts.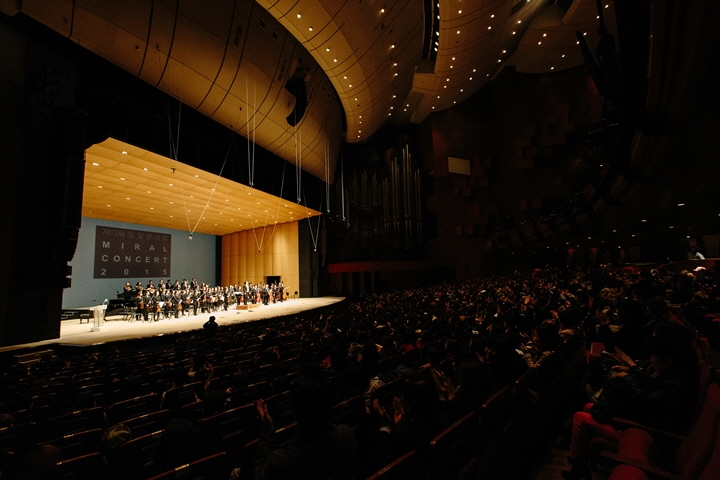 With a slogan 'Be together and become intimate' the Miral Concert has been held annually for social integration of disabled and non-disabled people, since 2004, for 12years. This concert is the biggest domestic integrated music concert. In this concert, Disabled people and non-disabled people stand in one stage, being spectators and come together by music.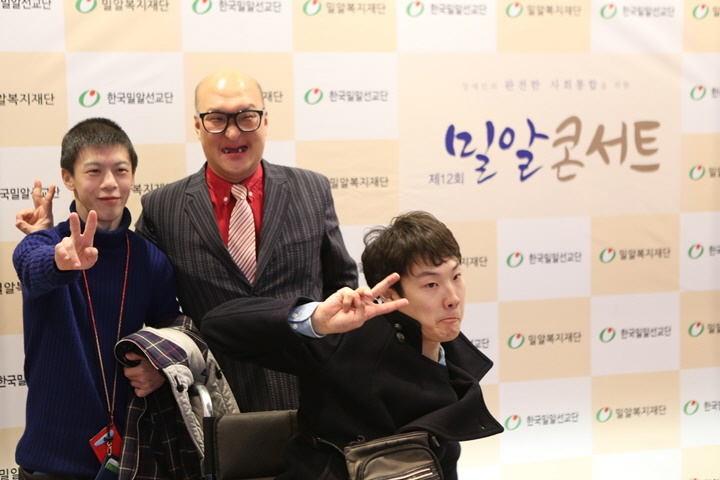 Miral concert is a special concert that disabled people's unexpected actions are not the restraint subject but understanding subject. And the concert supports disabled people to get the concert hall. About six hundred disabled people and two thousand three hundred non-disabled people attended the concert and enjoyed the music concert for integrated social.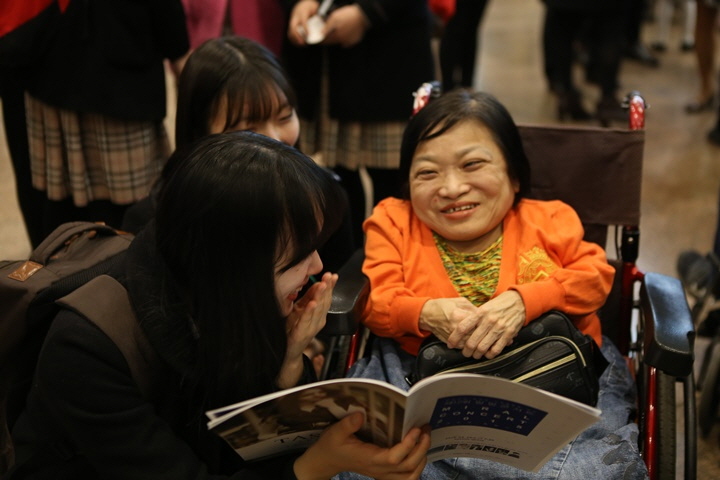 ▲ Bae Hwa female high school Students who participated in volunteer work.
12th Miral concert was hosted by Lee Ik Sun announcer. And Miral Festival Orchestra conducted by Seo Jin, tenner Jung Uigeun, soprano Yun Seonghoe, baritone Park Jinsu, Violin lee Subin and Miral cello ensemble Cha Jiu had performance at the concert.
Especially during the performance, 'Cha Jiu' who is a member of Miral Cello Ensemble 'Wing' and professional musicians boasting their brilliant career stood together at the Miral Concert which attracted spectators.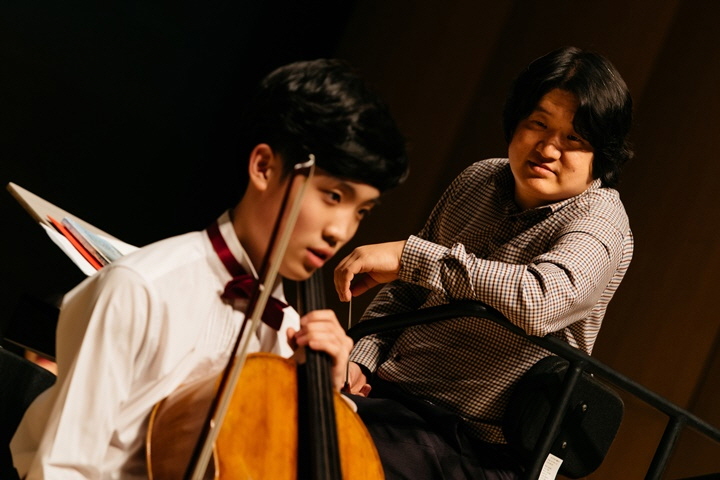 ▲ Cha Jiu who played cello and Seo Jin conductor at 12th Miral Concert.
Although Cha Jiu has intellectual disabilities, he has great talent for music. He learned professional playing as a member of Miral Cello Ensemble in Miral Welfare Foundation from February of 2013. Selected as an activity member at February 2014, he started to have on-stage experiences like recital. And he played with professional players at the 12th Miral Concert in two years. To achieve his dream, Cha Jiu had built his playing abilities by practicing diligently everyday till his finger bleed.
At this concert, Cha Jiu played Haydn: Cello Concerto No.1 In C Major with Miral festival orchestra. After finishing his playing, people were moved by he saying "It was pleasure to make people happy."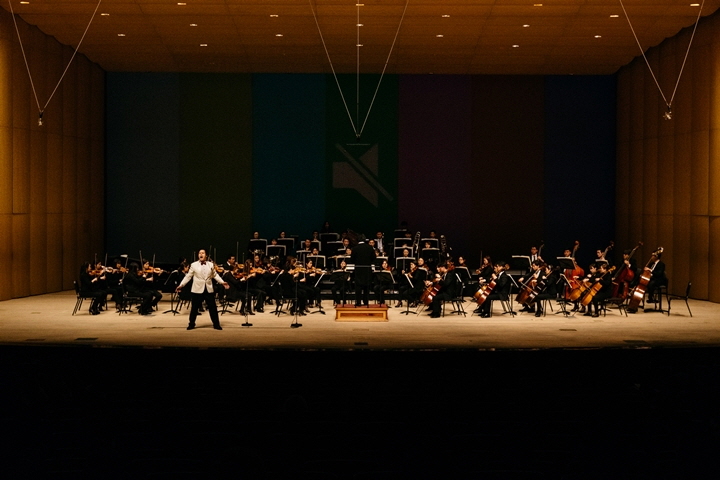 ▲ Baritone, Park JinSu who played 'sympathy performance.'
Also, there was a 'sympathy performance' which is none sound with all playing stopped suddenly during the orchestra performance. Audience could sympathize how the deaf people in the concert feel, and enjoy the Miral concert.
Jo SuJung who is hysically disabled and attended the concert said "To me, it is hard to go concert hall. So it was very pleasure to enjoy the classical performance in the best concert hall in Korea. And music in Miral concert makes my mind calm and I felt classic is not that difficult genre."
Supporter Kang Won Jin said "I came to Miral concert to feel harmony between disabled people and abled-bodies. As soon as I entered the entrance, i was very surprised by a lot of disabled people who came for the concert." Also he expressed his thought "When I was given an embarrassing question by a girl who seemed like developmentally disabled, I felt this place is like a new world. And I recognized that living with these people is happy life."
Miral Welfare Foundation is preparing '2015 Children Miral concert' to greet the National Disabled Persons day in April. Form April 23th to 24th, The Miral concert for children will be held at Ceramic Pallace Hall which located in Illwon-dong. And the concert is going to be progressed with children musical play which is for improving the awareness of disability. We are expecting your interest and support.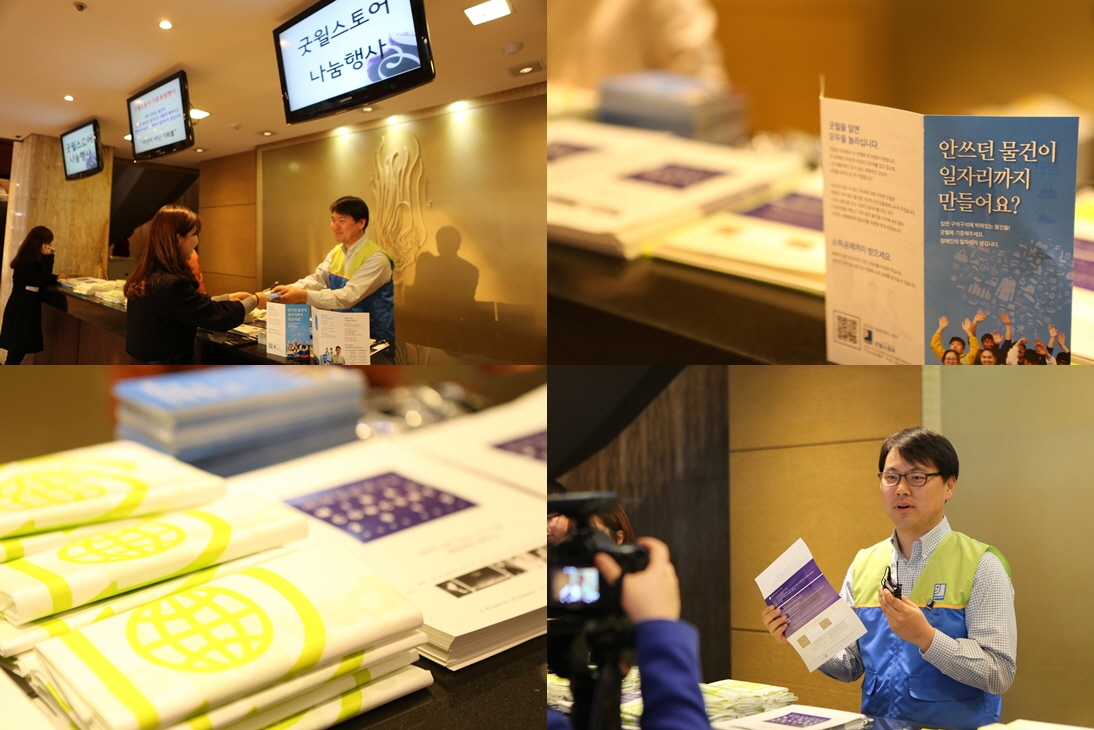 ▲ 'Good Will Store sharing event' at Sejong culture center lobby.
'12th Miral concert' could make 'together' because of disabled people, abled-bodies and all audiences participation. All profits from Miral Concert will be used at building 'Good Will Store' that makes working place for disabled people. We are very thank you all who are willing to support and encourage the music concert that was designed to harmonize abled-bodies and disabled people.