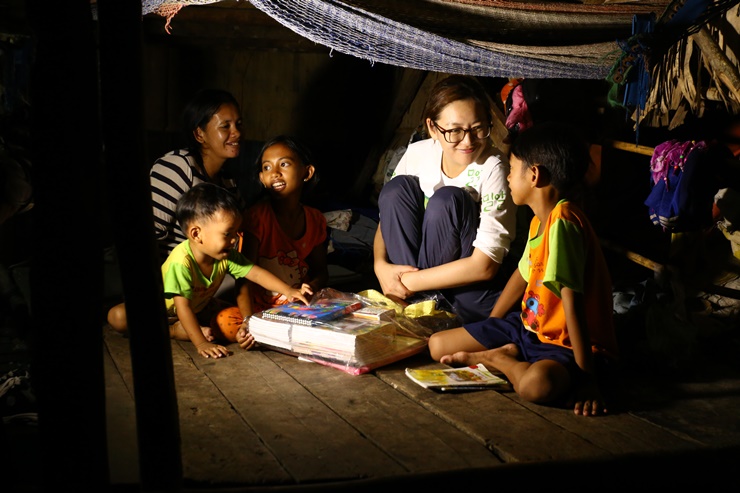 Cambodia is one of the best tourist country in the world having a famous tourist site, Angkor Wat, called "city of the gods" where attracts over 4 million tourists each year. Although Cambodia has achieved rapid and significant economic growth about 7% over the recent three consecutive years, it still is the least developed country with $1,146 GDP and ranks 154 in the world. In particular, the gap between rich and poor, alienation of the most vulnerable women and people with disability issues are becoming serious social problems.
Phnom Penh, a Cambodia city looks busy with many cars, motorcycles, and the people walking across the roads. It has decent buildings all around while one can easily see the slums inside of those buildings. Near the river, poor floating houses made up with woods stand in lines. There are also young children who need to learn and study wondering in the village to beg tourists for money, look for trash piles to pick up some trashes.
Actress Jung Suyoung heard these Cambodian children's news and visited Cambodia. Jung Suyoung is also a mother of 5 yrs old child and she doesn't want to be indifference of it. Therefore, she has started her journey in Cambodia. First , she met 14yrs old Shyrailin who lives in Undong village, located outside of Phnom Penh city.
14yrs old girl Shyrailin is selling a fish-noodle with her grandmother at an open market
Not so long ago, Shyrailin attended a school with her two brothers wearing a clean uniform. Her family was very happy and poor wasn't a big issue for them. However, after her father was passed away with an alcohol addiction and her mother ran away from her children because of heavy debts, now Shyrailin's grandma takes care of the children by selling the fish-noodles at an open market. Shyrailin wakes up at 3 or 4 in the morning to help her grandma preparing materials before going out and selling noodles at the market.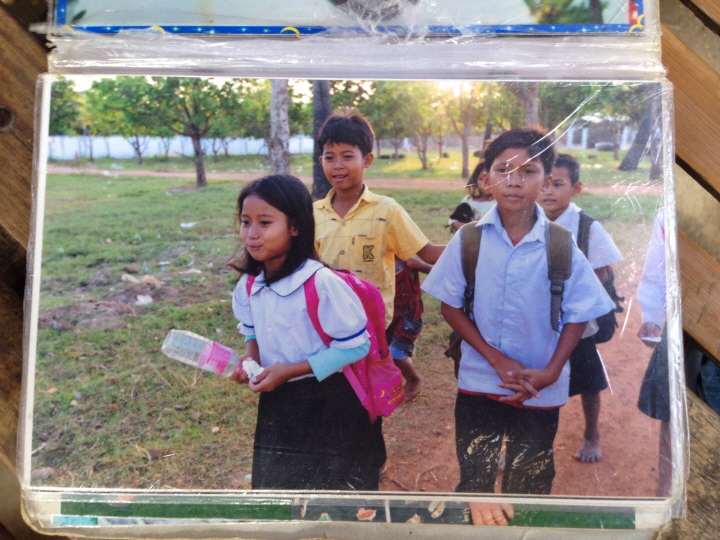 ▲ Picture of Shyrailin and her brother going to school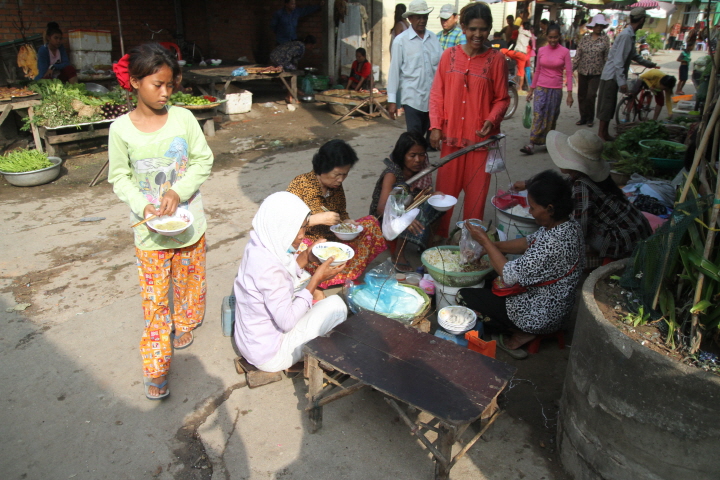 ▲ Shyrailin helping her grandmother
All five of Shyrailin's sibilings include Shyrailin's oldest brother Mecarah(15yrs old), who gave up his studies and did clean-up work at illegal entertainment stores and younger brother Tara, who has a disability(7yrs old, Down's Syndrome) are still a young children needs a warm parental care and protection. However, their resting place was only one square foot size small that 6 people can sleep only when they lay down each other very closely. And their house was fragile made up with a thick board.
Shyrailin's grandma lost her husband during Killing Filed War and she was then living in a poor village in Phnom Penh called Sumpodjab. Sumpodjab is located near the well-known Cambodian tourist sites and is a poor village where has frequent sex-trade and robbery. Government doesn't want others to see this place because tourists could easily pick up this area and find out their problems. Therefore, in 2006, Cambodia government used armed force to destroy 1,500 houses in that Shyrailin's grandma was dismissed with having any necessary items to Undong village where she lives now.
Shyrailin's grandmother showed tears saying she is regretted let her grandsons and granddaughters go out to work instead of going to school. Suyoung Jung whose holding grandmother's hand with her two hands also had tears in her eyes. She wanted to comfort Shyrailin's grandmother so, Suyoung massaged grandmother's stiff shoulders by holding a heavy stuffs, sold noodles at an open market, had small talks with grandmother like a close friend. And she fetched up some water and cleaned up some dishes with Shyrailin, Suyoung hardly left this place until market has closed.
13yrs old girl Siyumai wants to be a teacher for the poor children
Jung Suyoung met a 13 yrs old girl Siyumai, who wants to be a teacher for a poor children who couldn't go to a primary school. Because Siyumai's mother also couldn't go to school and read the letters due to poverty.
Siyumai was already a mature girl who can put herself into others' shoes. Things she does as a play are to get along with her siblings with the toy they picked up from the trash piles, to put their feet in the water bucket that they wash the recycling plastic bags and play with it . Even though they do no special activities, Siyumai and her siblings always had a big smiles on their faces and looked very happy.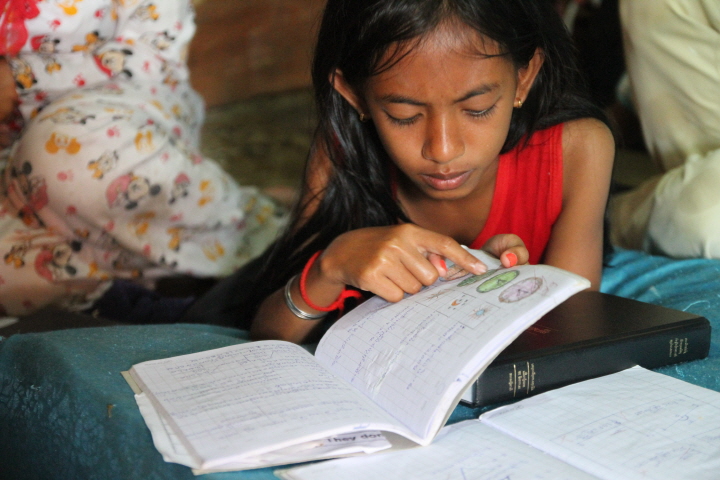 ▲ Siyumai studying hard even she can't go to school
Siyumai is very good at helping her mother's chores. When her mother washed off the plastic bags she picked up from the ground and put those plastic bags to the sides where those can be dried. And also she goes out to help her mother with holding a plastic bag that is way bigger than her size. They passed the dinner hours to pick up the plastic bags on the side roads. Siyumai is too young to do those hard chores with her mother. But Siyumai had never grumbled about it.
Siyumai family's daily earnings from working till late night was only $3-4. The place where they live has such a bad condition with having a licking ceilings and bugs, rats, sneaks from the trash piles. However, her mother couldn't leave this place. She said, she now can give thanks to God with this present condition because in the past, situation was worse that she begged others on a road daily with her little children for anything to sustain their lives.
"Although It was just a short period of time meeting with people, I saw Shyrailin's grandmother and Siyumai's mother feel comfortable receiving my little affection and encouragement for them. I realized that they needs an emotional support and not just a material needs. Our action of helping others can be an emotional message showing how we takes care about them and love them. Therefore, even with a small amount of money and actions, we can give others some kinds of encouragements, emotional supports and love."
-Actress Jung Suyoung's autobiography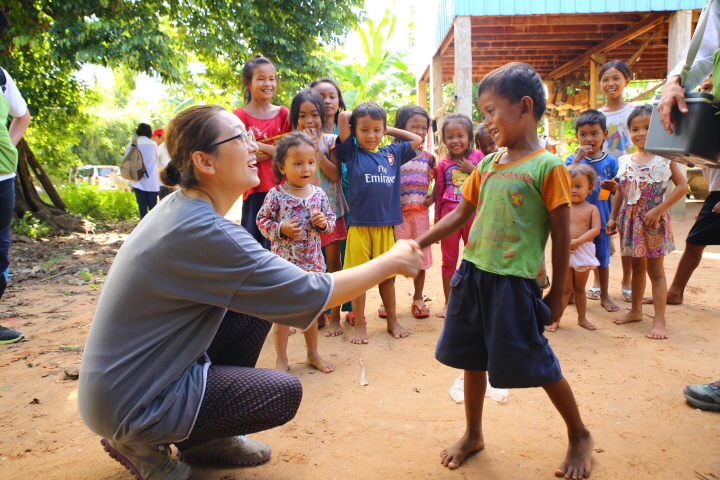 ▲ Actress Jung Suyoung greeting with a little boy
During 5 days, Jung Suyoung met poor and vulnerable children who want to help their families with their willing hearts and minds. She said, she learned many things from the children that they know how to share love that they've received from their families.
Actress Jung Suyoung's story with Cambodian children was broadcasted on MBC through <249th The Sharing is Happiness> program on 12:55am, December 10, You can also give hopes to the children in needs around the world.
Child Sponsorship: 1899-4774
Small Amount of Child Sponsorship: http://nanuda.org